Craft beer has become somewhat of a phenomenon in recent years.
This April, the Brewer's Association released their annual growth report on the U.S. craft brewing industry, revealing some surprisingly juicy tidbits. Not only did craft beer volume in the U.S. exhibit a 4% increase over the previous year, it's actually outperforming growth in the beer market as a whole. (Click here to read the full report.)
If you own a bar or restaurant, it's time to start paying attention. Here's a few tips to help your establishment get the most out of the craft beer market.
Buy Local. Psychologically speaking, people love to buy local. Local goods, local ingredients, and even local beer. Adding a few local selections to your craft beer lineup is an excellent way to garner interest. Craft breweries are everywhere. Even near you! To find nearby breweries, click here to head over to CraftBeer.com and check out their Brewery Finder.
Rotate Your Selection. What makes the craft beer industry so particularly appealing is the sheer number of choices you can source from across the thousands of breweries nationwide. Just take a look at the Brewery Finder above to visualize just how many there are. Take the time to do a little research and keep looking for new craft beer to serve. Weekly, monthly, and seasonal beer specials can incentivize your customer base to keep coming in to check out what's new.
Variety. A stellar craft beer menu requires a healthy variety. Beer comes in many forms, including India Pale Ales (IPAs), pilsners, and stouts just to name a few. Here's a handy guide from Time to help you talk a little more authoritatively about beer types. In addition to type, you'll also want to be sure you've covered a range of ABV (alcohol by volume) measures to help please as many customers as possible.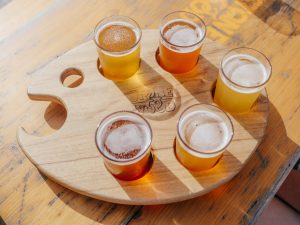 Flights. Beer flights (pictured above) allow customers to branch out and try a few different choices. Served in somewhat smaller glasses, flights give customers the opportunity to expand their palette without having to order four or five full beers. Flights can also prove popular with couples or groups that would like to share their beverages. It's a good way to satisfy customers and even help them find their next favorite.
Complimentary Samples. Offering complimentary samples is a good way to help some people zero in on exactly what they'd like to drink. Craft beer has proven to be popular with casual beer drinkers, but deciding what to order can be a little daunting for some. And while beer fanatics tend to have a better idea of what they may like, even the snobbiest of beer aficionados will appreciate getting the chance to better inform their order.
Promote with CoGoBuzz
Ready to capitalize on craft beer's popularity? Do it with CoGoBuzz, our state-of-the-art digital marketing service.
Leveraging advanced WiFi, SMS, and Email solutions, CoGoBuzz connect your restaurant and bar directly to the mobile devices your customers use so much. Through a one-time login to the HotSpot, customers are taken to an interactive landing page, where they can check out your brand new craft beers, menus, specials, and more! With our SMS solution, you can send automated texts promoting your new craft selections as soon as they're available.
Click here to learn more about CoGoBuzz!
—
Has your bar or restaurant tried serving craft beer? Sound off in the comments!